The Coven & Precariat Productions
in association with Wolfpack Theatrics
present
A Streetcar Named Desire
by Tennessee Williams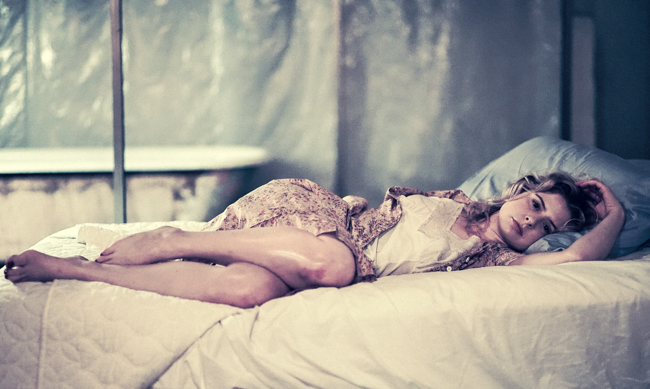 SOLD OUT
for the remaining performances but we've added MORE SEATS! Please email info@precariatproductions.com to be added to the list!
MAY 7 - 25, 2019
231 Rogers Ave, Brooklyn, NY 11225
REVIEWS
Performances run 05/07/2019 - 05/25/2019
Tues - Sat at 8pm, with one Sun Matinee on 05/19/2019 at 2pm
For press or industry tickets, please contact Andrea Alton of Alton PR
347-385-5757 or altonprandproduction@gmail.com
directed by Kevin Hourigan
TICKETS NOW ON SALE
inquiries? please email info@precariatproductions.com
Cast
Russell Peck* as Blanche DuBois
Max Carpenter* as Stanley Kowalski
Isabel Ellison* as Stella Kowalski
David J. Cork as Harold "Mitch" Mitchell
Yvonna Pearson as Eunice Hubbell
Julian Alexander* as Steve Hubbell
Tony Macht as Allan Gray
TEAM
Set Design: Choul Lee
Lighting Design: Matthew Webb
Sound Design: Caroline Eng
Associate Director: David Kahawaii IV
Intimacy Coordinator: Tina Horn
Producers:
The Coven
Precariat Productions
Lisa Backwell, Ryan Guiterman, Joey Merlo & Brian Pollock
Producing Intern: Mary Sanders
An immersive new staging, featuring a Genderqueer actor in the iconic role of Blanche DuBois
Set in the sultry and sweltering 1940's French Quarter of New Orleans, this production invites audiences directly into the Kowalski apartment for a beer and some whiskey, where young couple Stanley and Stella Kowalski are joined for the summer by Stella's damaged, fading debutante sister, Blanche DuBois.
This production features a GNC/genderqueer actor in the iconic role of Blanche. As far as we know, this is the first production to do so.
In a play that famously pins the all American, blue-blooded working class alpha male Stanley Kowalski against the soft, feminine, vulnerable, privileged beauty Blanche DuBois, we hope to create an immersive theatrical experience that speaks to the divided state of the world today and invites audiences into an experience they'll never forget.
*Actors appearing courtesy of Actors' Equity
An Actors' Equity approved Showcase
Fiscal Sponsorship provided by Fractured Atlas
A Streetcar Named Desire is presented by special arrangement with Dramatists Play Service, Inc., New York.
CONTENT WARNING: This play contains depictions of rape and domestic abuse, as well as smoking. If you need any more info in regards to content, please contact us at info@precariatproductions.com